Copyright 2005 Frank Andrews — Glass Home — Ysart Articles Menu — Contact: Contact
Ysart Glass Specials - Monart
The Salvador Scone Vase
The Salvador Henderson Decanter
The Berluze Vase
Made by Salvador Ysart as a gift for Mrs Drummond of Scone in the twenties.
The Drummonds owned the petrol station in Scone, pronounced Skoon.
10" 255mm high.
Purdue Collection
Made by Salvador Ysart for his friend, Jack Henderson (deceased) of Henderson Jewellers in Perth. Salvador visited Jack's shop most Saturdays for a cup of tea and a chat.On occasions he would bring bits and pieces of glass for Jack's opinion. The shop is now (2002) run by Jack's son.
12" 305mm high.
Barraclough Collection
This vase is a Schneider design known as "Berluze". Only two Monart examples are known. Ian Turner obtained this from a private house in Perth.
20½" 520mm high.
James Collection, Formerly Turner Collection
The Society of Glass Technology Pintray
The 1936 Perth Curling Trophy
Inscribed:
"Society of Glass Technology - Annual Dinner . Royal Victoria Hotel . Sheffield . April 22nd 1952"
Made by Paul Ysart, using pre-war colours. Given as gift to attendees.
Purdue Collection
Presumably made for a local event. The applied badge is inscribed "1936" at the top and "Perth Ice Rink Curling Club" in the banner at the bottom.
The Jean Ysart vases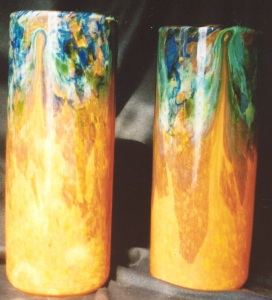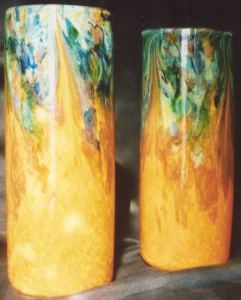 The Forsyth Bowl - Shape X
A remarkable discovery this bowl was made between the end of Monart production for World War II and the start of Vasart production in 1946.

It was a gift, personally delivered by Salvador Ysart to a Mrs Forsyth on the 24th December 1945. Clearly Monart shape X but a variant form that is closer to Vasart V026.

Images and information from the Forsyth family. 9 inch diameter 4 inch high (230x100mm)

<<< Index
Next Specials >>
Original construction
Created by Frank Andrews with help from many collectors
Copyright and Copyleft 2005 cannot be copyrighted on re-use.
Can be reproduced only with written permission and a reference to www.ysartglass.com and including this text. Subject to the copyleft license at http://dsl.org/copyleft/dsl.txt
Edited by Mary Houston-Lambert
Back to previous page