On a visit to New York in 1963, Mr A K Bergius of the whisky distillers William Teacher & Sons was given a Teacher's Whisky bottle which had been accidentally left overnight in a potter's oven, giving it the appearance of having been squashed. The squashed bottle made a good ashtray and, on his return, Mr Bergius showed it to almost every glass manufacturer in the country. No manufacturer was willing to try and reproduce the design until it was taken to the Vasart works. Vincent Ysart agreed to attempt to reproduce the accident and spent many long evenings preparing and experimenting with a special furnace with bricks and gas jets until eventually he was successful.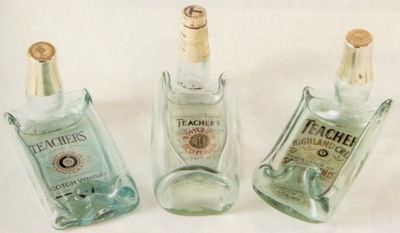 Production of the ashtrays reached about 500 per month and Teacher's, finding them popular, wanted more for publicity purposes. Realising that the Vasart works were not suited to an increase in capacity, it was decided in 1964 that Teacher's would take over Vasart Glass Limited and build a new, larger glassworks, renaming the company Strathearn Glass Limited. (2004 - Geoff Timberlake reports that Nazeing also produced these at some point. Presumably while Strathearn was being set-up.)
On January 22nd, 1965, the Strathearn glass factory opened at Muthill Road, Crieff, with Vincent Ysart as works manager. Strathearn was the first glassworks in Europe to fire its furnaces with propane gas. Later the same year, Vincent left the factory to work as a filing clerk for GAFLAC (General Accident, Fire & Life Assurance Company) in Perth until he died in 1971, following a fall from a ladder at work. So ended the Ysart family's direct involvement in a style of glassware first produced by Salvador Ysart some forty years earlier.
Another forty years on and we are seeing the impact of the Scottish glass companies that came into being because of the Ysart family: Strathearn, Caithness and Perthshire Paperweights. We see how they built upon the Ysart style and tradition and how the younger glassblowers employed their own creativity and personal style to produce beautiful modern glass objects-- craftsmen such as Herbert Dreier, William Manson, John Deacons and Peter McDougall, to name a few. At the time of writing, 2002, Perthshire Paperweights have just closed their doors, leaving only Caithness and a few smaller studios. Strathearn was taken over in 1980 by Stuart and Sons of Stourbridge. When I wrote the original article my interest was focused on the Ysart family's involvement and not on the impact of their style. Fourteen years later there are now many collectors who are interested as much in the Ysart style and, consequently, in the post 1965 glassware.
Strathearn continued to use the same soda glass metal used by Vasart and bought their colours from Kügler in Germany and from Plowden and Thompson in England.
Stuart Drysdale remained as manager of Strathearn until February 1968 when, in his words, he was 'forced to leave'. He went on to set up Perthshire Paperweights, mainly producing millefiori and lampwork paperweights. The Strathearn factory, with Angus Sillars as Design Director, made vases, bowls, paperweights and lamps in the Vasart style, usually with a raised pontil bearing an impressed seal of a leaping salmon. The seal was only used where the thickness of the glass allowed it, many early pieces were damaged while impressing the seal. This explains why Strathearn tends to be thicker than Vasart. Production of the squashed bottle ashtrays was increased to meet Teacher's needs of 50,000 per year.

In 1972 the first International Exhibition of Hand-Made glass was held in Lisbon, Portugal. The exhibition catalogue illustrates several pieces of Strathearn made during 1970-71, including two lamp bases, a vase, a set of three candlesticks and two paperweights, all attributed to Angus Sillars as designer. (ref Items 119-124, Exposição Vidro Manual, Instituto Nacional de Investigação Industrial, Junho 1972, Lisboa-Portugal.)
From 1973, engraved glass was produced at the Strathearn factory under the direction of Alasdair Gordon. Demand for coloured glass was declining in the 1970's and when the parent company, Teacher's Whisky, were taken over by the Allied Group, glassmaking was no longer a priority. In 1980 Strathearn Glass had been taken over by Stuart and Sons of Stourbridge, and renamed Stuart Strathearn. A workers' association including Christine McLean, Sheona Wilson, Herbert Dreier and a Stuart director was set up to run the new company. The production of all Strathearn designs, both glassware and paperweights, was halted and greater emphasis was given to producing lead crystal blanks for cutting in Stourbridge. Two new furnaces were installed at that time.
In February 1982 Stuart Strathearn introduced a range of giftware, at the "Scottish Gift Fair", using Stuart's own 30% lead crystal formula. Three ranges were introduced, all featuring hand-engraving with a Scottish design influence. The ranges comprised: three basic vase types, a half pint beer tankard collection and a Whisky decanter and tumblers collection.
Iestyn Davies worked for Stuart Crystal from 1985 to 1987 after leaving Stourbridge College of Art. He becamethe resident coloured glass artist. In 1986 he designed some new glassware ranges including the Ebony & Gold and Dark Crystal ranges (see below) - these were only produced for a short period. In 1987 he set up Osiris Glass at Broadfield House Glass museum in 1987. He is now achieving international status as a Glass Artist. His full biography can be found at the Blowzone website.
Recognising Strathearn glass
Strathearn is largely recognisable by the leaping salmon seal, but some is found with this seal ground down by idiots trying to pass it off as Monart or Vasart. Many of the shapes used by Vasart are repeated in the Strathearn glass and the Vasart/Strathearn catalogue can be used to identify these. One characteristic of the later glass is a tendency to use much stronger colours than Vasart. This, of course, was to satisfy the public taste of the time. See the labels page for known marks and labels.
The most noticeable difference between Strathearn and Ysart glass, whether Monart or Vasart, is that Strathearn's colours often appear to have a dull, rather dead appearance. Also the outer casing seems to be made from a very glossy, crystal-like glass which, in some pieces, can be exceptionally thick. The thickness had to be increased in order to fit the seal button - early attempts caused cracks. The best pieces of Strathearn are not merely copies of Monart or Vasart, but are attractive pieces of glass in their own right which deserve further study. The colours of later pieces became brighter, in keeping with artistic development of the day.
The Strathearn Classic Range
The Stuart Strathearn 'Dark Crystal' Range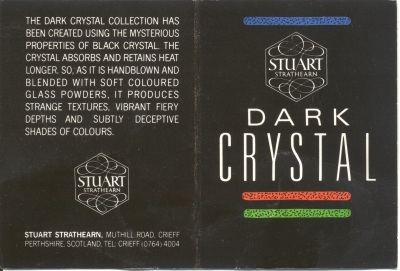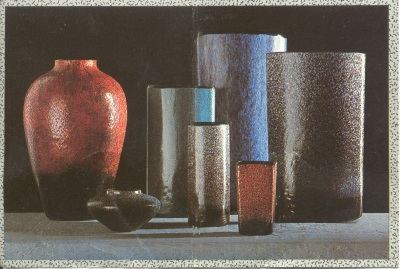 MORE TO COME - INPUT HIGHLY APPRECIATED AS MY KNOWLEDGE OF STRATHEARN IS LIMITED.
References
Ysart Glass, Volo, UK. 1990
Herbert Dreier notes and CV
Perthshire Advertiser - January 12th 1982
Additional research 2002 - Alan Smith