Copyright 2006 Frank Andrews — Glass Home — Ephermera/Catalogues Menu — Contact: Contact
Map of Perth — about 1859
This is a redrawn version of the map to give a better appearance in a small size. It also shows the approximate location of the St. Catherine Road Glassworks that were built in about 1891.
Thanks to Ron Grant for identifying the location of the Perth Ink Manufactory where John Moncrieff started to work. Also the first glassworks he opened off Loretto Court. These buildings are shown in orange below (Ink) and above the 'S' of South Street.
The Moncrieff bottle works, and the Vasart works were both located south of this map in the South Harbour area.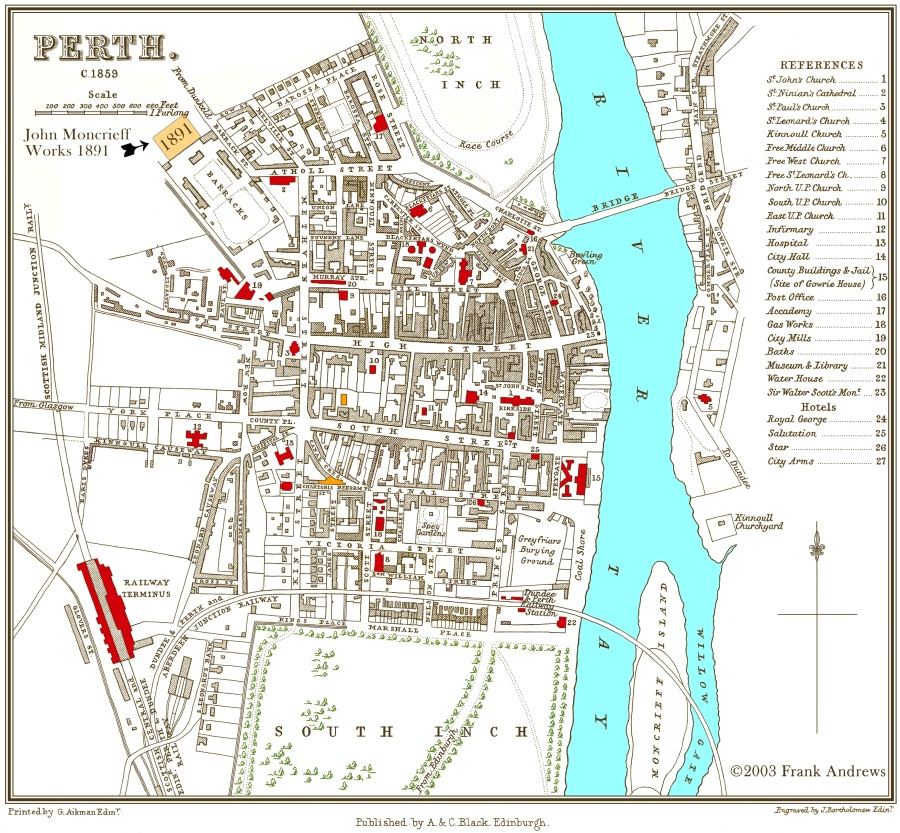 The original map was engraved by J. Bartholomew of Edinburgh, published by A. & C. Black of Edinburgh and printed by G. Aitkin of Edinbugh.
Redrawing the map was an interesting task and left me with a lot of respect for the original engraver. Every tree was different and straight lines were obviously drawn freehand. I had to widen some roads and remove the street names from a few very narrow streets so that they could be reduced to about 25% of the originals size. The full size drawing is around 10 Mb, contact me if you would like a copy.
Frank Andrews 2003.
Back to previous page